★ Hello and Thank You for your interest in my artwork! ★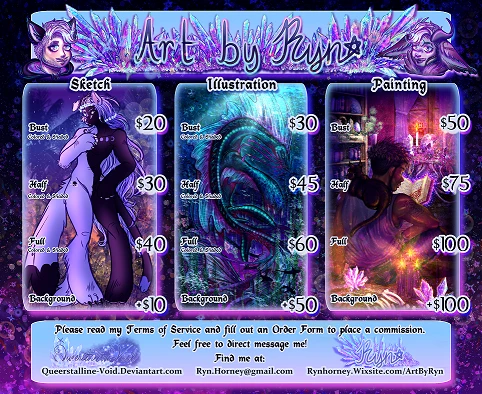 If you are considering commissioning me, please check out my Terms of Service:
And then fill out my Commission Form, so that I can get back to you with a price:
And then we can message each other to discuss payment!
Money I earn from your commissions goes towards my therapy, transition, getting married to my international long-distance partner, and eventually moving out with my partner and funding our cost of living, as well as maintenance on my art supplies!
★ Thank you for your support! ★
Sketch Lineart
Bust $10
Half $15
Full $20
Colored Sketch
Bust $15
Half $20
Full $30
Shaded Sketch
Bust $20
Half $30
Full $40
Lineart Illustration
Bust $20
Half $30
Full $40
Colored Illustration
Bust $25
Half $35
Full $50
Shaded Illustration
Bust $30
Half $45
Full $60
Painting
Bust $50
Half $75
Full $100
Additional Characters +50%
Simple Background $10
Illustrated Background $50
Painted Background $100
Prices for Reference Sheets and Custom Character Designs:
Full body Illustration, colored with no shading- $30
Additional sides of the character- +$20
Custom outfits- $10-25
Additional images to show the Face, Hand/Paws, Eyes, Ect.- $5-15
Simple backgrounds are Free, complex backgrounds- $50-100
Prices for Pixel Art:
50x50-100x100- $10
200x200-500x500- $20
Animated pixels- $30-50
Pixel backgrounds +$15-30
NSFW Commissions are +$25
If you are 18+ and seeking a NSFW Commission, please see my additional terms of service: